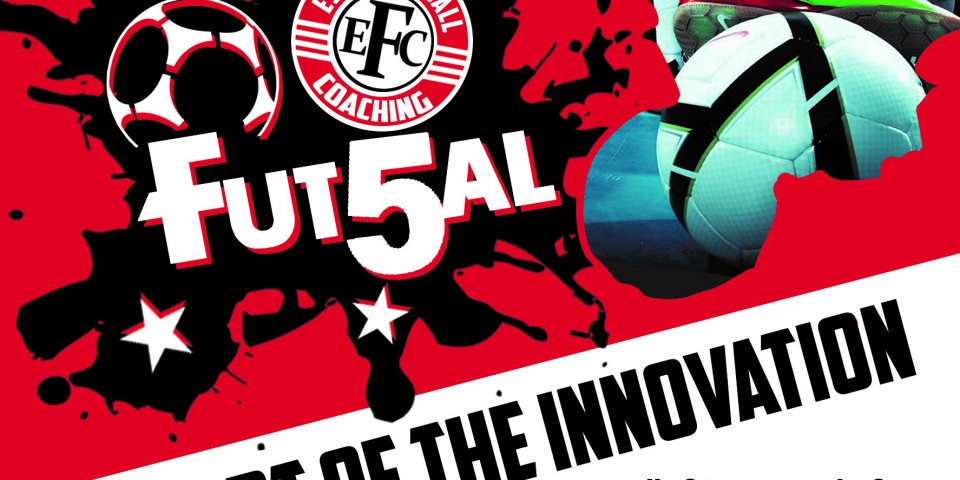 From Brazil to Essex – Futsal
Futsal is another sport that we are able to offer, to improve the footballing education of those who attend our clubs and courses. Working closely with local clubs and the county FA, we are able to provide the opportunities to learn this fantastic sport through the use of futsal qualified coaches.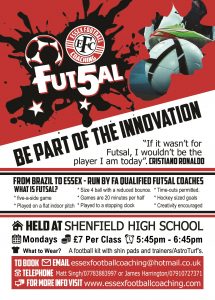 We are please to announce the opening of our first Futsal class in Brentwood. The class will take place in Shenfield High Schools sports hall from September 2016. We are welcoming bookings from any player aged between 6 - 9 years old. 
Please use the tab above to reserve a space. 
We hope to release more dates for an older class in the near future. 
<------- Click on the image 
What is Futsal?
Futsal is an exciting, fast pace, small sided football game that originates from South America in the 1930's and is recognised by UEFA and FIFA. The nature of the game places a large emphasis on technical skill and ability in situations of high pressure and is subsequently an excellent complement for the 11-a-side format.
 Many of the top world class footballer's played futsal in their youth and credit it with supporting their football development such as Ronaldinho, Kaka, Lionel Messi, Cristiano Ronaldo, Deco, Xavi, Fabregas.
How is Futsal played?
Futsal is a five-a-side game, normally played on a flat indoor pitch with hockey sized goals and a size 4 ball with a reduced bounce.  It is played to touchlines and all players are free to enter the penalty area and play the ball over head-height.  Games are 20 minutes per half, played to a stopping clock (similar to basketball) with time-outs permitted.
There are a number of differences to our traditional version of small sided football, but the dominant elements are the absence of rebound boards and amendments in the laws that encourage and foster skilful, creative play above the physical contact that tends to be a feature of English five-a-side.
The surface, ball and rules create an emphasis on improvisation, creativity and technique as well as ball control and passing in small spaces
Quotes
"As a little boy in Argentina, I played Futsal on the streets and for my club. It was tremendous fun, and it really helped me become who I am today".
Lionel Messi
"Futsal is an extremely important way for kids to develop their skills and understanding of the game. My touch and my dribbling have come from playing Futsal".
Ronaldinho
"During my childhood in Portugal, all we played was Futsal. The small playing area helped me improve my close control, and whenever I played Futsal I felt free. If it wasn't for Futsal, I wouldn't be the player I am today".
Cristiano Ronaldo
If you are interested in attending one of our Futsal workshops or using our qualified coaches to educate your playing squad, please get in contact.