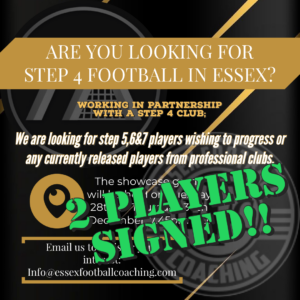 On Tuesday 28th December, we held our first senior showcase game to assist with recruitment for a semi professional club playing at Step 4, in the Bostik North. This event gained interest from some young and experienced players who were already in the semi professional system. We were lucky enough to be invited to play against Frenford FC, at their brilliant facility!
We are delighted to share the news of two players being successfully signed after the event. One of those made his debut last weekend, helping his new side to beat top of the league. We were even contacted by the opposition manager to comment on just how well he played!
We will be looking to hold more showcase event for youth and senior players in the near future, were we will be teaming up with semi professional and professional clubs to aid the progress of other talented players. Please feel free to get in contact to join our database.